Houston Texas
Pet Transport Services
Professional Pet Relocation.
From Houston TX. to almost anywhere in the world.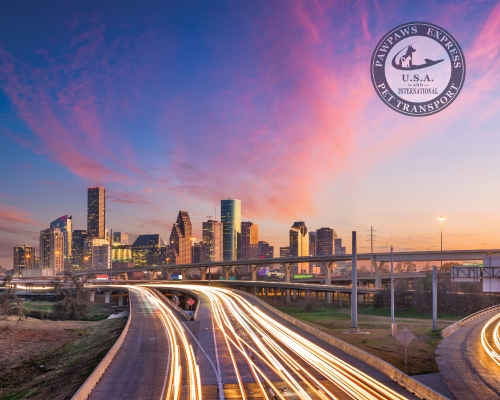 Moving pets into Houston Texas
Your pet is important to you, and we understand that you expect the highest levels of care. That's why our team provides only the highest quality professional pet transport services into or out of the Houston Texas area.
We are continuously refreshing and updating our knowledge of the industry and the education of our employees. Pawpaws Express is the premiere pet relocation service in Texas.
George Bush Intercontinental Airport
Complete travel, clearing and documentation services for traveling in or out of the Houston area.
Door to door transport, both international and domestic
Assistance with health certificates, import certificates, and other travel documents needed for animal transport
USDA endorsement of all relevant documents where required
Airline approved travel kennels provided with personalized labels, identification and emergency notification instructions
Customs clearance and delivery to your home
Local pet taxi service to and from the airport, your home, veterinarian or kennel/boarding facility – available in the San Antonio area as well as throughout the surrounding areas
Travel consultation and flight reservations
I was told NO so many times by other "obviously less experienced" transport companies.
But there was never even a question with Pawpaws, quick and painless to my door. I highly recommend
When we moved to Italy, we honestly had no idea where to start with the dogs. How to get them there, the health requirements etc. But Misty with Pawpaws handled everything, and they arrived happy, healthy and precisely on time. Thank you Pawpaws Express.
When our family PCS transferred to Hawaii, we really didn't want our little ones sitting in holding centers and being shipped on a military cargo plane. We contacted Pawpaws Express, and they not only got our babies there happy and healthy. But they also showed were to get the cost of the move written off on our taxes. I highly highly recommend Pawpaws Express.