Domestic and International pet relocation
You have options when it comes to transporting your pet.
Our goal with every pet transport is to keep things as simple and stress free for you and your pet as possible.
Trusting your babies with strangers is a very difficult decision to make.
But you're in luck, we are also pet parents, foster parents, and grandparents.
PLUS we have tons of experience making nervous or scared pets feel safe and secure during their trip.
There has never been a pet lost or injured while in our care ( ask around..it happens ).
Once we get to know each other, you will see that your babies are in very capable and caring hands.
We will help you prepare your pet for the trip, whether it's a road trip across the country,
a flight to another country, or a combination of the two.
We assist you in making sure all legalities are met, so that you don't hit time consuming and costly snags along the way.
Getting you and your pet prepared for travel across the country, to Hawaii, the Virgin islands,
or other countries, are all things we do every day.
It is our job to reduce your workload, stress and worry, and we are very good at it.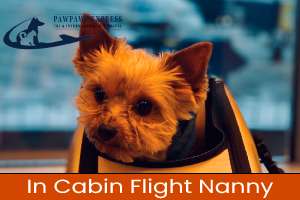 Our flight nanny service can include complete door to door pick up and drop off, or airport to airport pet relocation.
We supply the airline approved pet transport kennel and it is included in the price of your dog shipment.
For sanitation reasons, we do not re use pet kennels.
We also assist you in making sure all airline and government requirements are met.
We DO NOT fly stand by, we have a full schedule as do you.
You will know up front when your pet is scheduled to arrive at its destination.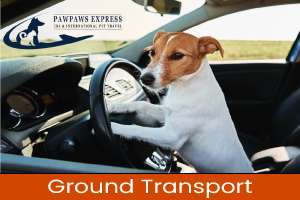 We offer nationwide, year round, door to door pet relocation via ground transport.
We do not  travel with more than one family of dogs at a time, and we make every effort to make sure your pets feel as safe and secure as possible.
We stop on average every four hours for stretching, exercise, water, snacks and potty breaks.
We do stop for meals at regular feeding times, but the meals are smaller because of the time spent laying down.
Our vehicles are thoroughly sanitized between transports to insure a safe and clean trip for your pets.
And unless instructed otherwise, we stop at dog parks as much as possible to encourage free roam running and playing.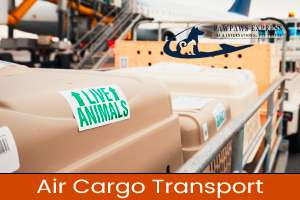 For pet cargo flights, we assist you in obtaining all necessary documentation, and make all flight arrangements.
We verify all that all health requirements are met in the time frame required by U.S. and International law.
Door to door transport can be arranged almost anywhere in the world.
We also offer customs clearance, pick up and delivery from incoming international flights arriving Into Dallas Fort Worth, Houston and Atlanta.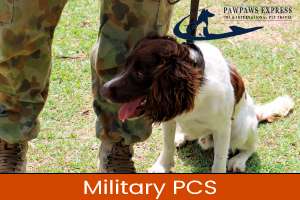 Military Permanent Change of Station services can include door to door or airport to airport pet relocation almost anywhere in the world.
As a service member with active orders, you could benefit from discounts with many major airlines.
We assist with all documents, certificates and requirement verification's.
We can also arrange extended care or boarding to help you better manage your packing and arrival.